Ailish
AM/CAN CH Kamaglo A Brief Encounter CDX JH WC VC
Sire: Am CH Kamaglo's Original Formula CDX JH WCX VCX OS
Dam: Kamaglo's Original Model
July 9, 1996 - August 9, 2013
It is with great sorrow we are letting you know we had to say goodbye to Ailish
She was 17 years and one month

We dearly miss her


When Ailish's eyes were smiling, you knew she was up to something. Just like her parents, a brother/sister illicit relationship, prompted her name "A Brief Encounter".
It wasn't hard to keep Ailish's eyes smiling in the confirmation or obedience ring—as long as you didn't run out of treats.
Bright eyes and a great nose carried her through her field titles.
Laughing eyes helped her express the long loud stories she loved to tell.
With time, her eyes dimmed, yet at 17 there still was enough sight to allow her to move through her world with grace and dignity.
Now that she is gone, it is comforting to see her smiling eyes reflected and carried on in her children and grandchildren and great-grandchildren.
The eyes are a window to the soul! I am grateful for every minute I was allowed to look into hers.
Ailish - Still bright and beautiful at 16!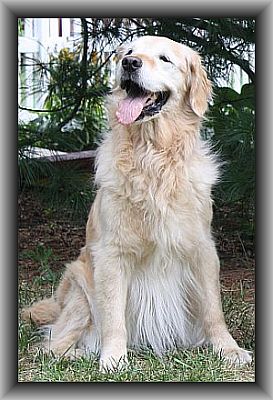 I have looked into your eyes with my eyes. I have put my heart near your heart.
Pope John XXIII